STAREX NEW BANNER WEBSITE
download app
* get Rs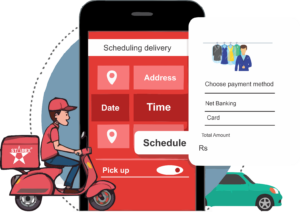 . 100 off use code GETSTAREX
PLACE ORDER
Place your order online or by phone & schedule a time for us to pick-up your clothes. Anywhere in Delhi-NCR
WE PICK-UP
One of our friendly drivers will be over in a jiffy to collect your dirty clothes. At home, at work, wherever you like.
DELIVERY
Voila! Your freshly cleaned clothes delivered back to you within 48 hours.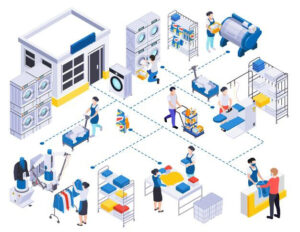 About Us:
Starex Drycleaners is New Delhi's largest dry cleaning chain with over 50 outlets and counting. We have 14 years of experience in the dry cleaning industry; our skilled team coupled with world class machinery and eco-friendly detergents aspire to provide the best in class service to our customers at the most affordable rates. Our centralized processing unit in Ghaziabad is spread over 50,000 sq. feet and can process 30,000 garments a day.
DRY CLEANING
We provide our customers with exceptionally quick and quality dry cleaning services at their doorsteps. At Starex, we value our customers' time and money; we use crease-resistant packaging and anti-fungal treatment to provide our customers with the best service at the most affordable rates.
Our robust operational system and processing capacity enables us to cater to individuals and commercial clients seamlessly. Our aim is to be the leading brand in the dry cleaning and commercial laundry segment, trusted by our clients for our quality and affordability. As our customer, you don't have to worry about your clothes – that's our job.
STEAM IRONING
STAREX promises to deliver you wrinkle-free garments. Our automated steam press machine and expert pressers ensure that pleats are sharp and smooth areas are unpleated and wrinkle-free. We can deliver your garments folded or on a hanger, the choice is yours. Our extensive capacity enables us to cater not just to individuals but to a variety of commercial clients as well.
UPHOLSTERY
Curtain Cleaning
STAREX specialises in cleaning all types of drapes and curtains. Our management team has the experience and knowledge to advice and recommend the appropriate treatment for different types of curtain textures. Our expertise in upholstery services enables us to clean curtains of all sizes, including commercial curtain cleaning in offices, hotels, theatres and other commercial areas
Carpet Cleaning
Carpets can succumb to wear and tear, losing their finish, bounce and softness if not regularly deep cleaned. Our carpet cleaning process leaves your carpets cleaner, deodorized, rejuvenated and safe from future spills. With the help of our modern cleaning equipment, our experts ensure your carpets will retain their shine for a long time. We also strictly only use gentle detergents to treat your furniture to ensure there is no risk to your health.
VALUE ADDED
At STAREX we provide our customers with additional value added services. Apart from our dry cleaning and laundry services, we provide our customers with Darning and Starching services.
Darning
Darning is a sewing process which involves repairing holes or worn areas in fabrics or knitting using needles and threads alone.
Starching
Starching involves the process of adding crispness and structure to garments, creating higher resistance to wrinkling and soiling, aiding in the long term care of your garments.